by Raven Harman
|
Last Updated:
June 1, 2022
Intel introduced its flagship mobile processor Intel Core i9-8950HK in 2018. Along with this processor, Intel introduced a new technology named Intel Thermal Velocity Boost. But what is it?
Let's get into its details!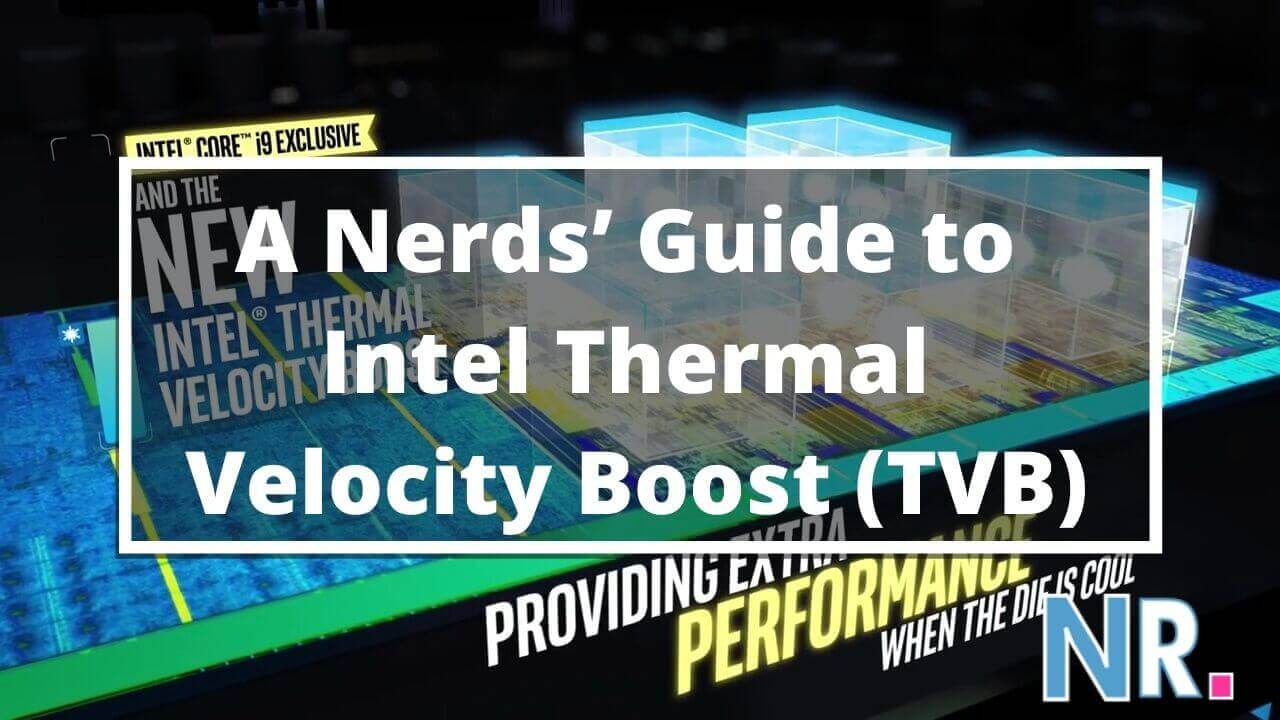 What is Intel Thermal Velocity Boost?
TVB (Thermal Velocity Boost) is a technology that resourcefully increases the clock frequency above the turbo boost 2.0 frequency. But this increase depends upon the ratio of a processor operating below its maximum temperature. The frequency gain and the duration depend upon the following things:
Cooling solution of the processor.
Capabilities of the processor.
The workload of the processor.
Any processor that's working with the enabled Intel Thermal Velocity Boost (TVB) will achieve the maximum core frequency. At this stage, the processor will be at a pre-specified temperature which is 50oC (50-degrees centigrade)for mobile processors and 70oC(70-degrees centigrade) for 10900K.
While enabling and working with Intel TVB, people often ignore the VGB depending on the temperature of the core. So, let's see what it is!
VGB
VGB is Velocity Guard Band, which is the voltage requested by the processor. In worst-case scenarios, it's 100oC(100-degrees centigrade). But for a processor having a better cooling system, it will require less temperature to operate at the same frequency.
Thermal Velocity Boost with VGB
For a processor working with enabled TVB, if its temperature is below 100oC (100-degrees centigrade), it will automatically reduce the operating voltage. This scenario is still limited. But for a gamer using a gaming notebook, this will be pretty handy.
This cycle of lower temperature and lower voltage continues. Sometimes, the lower temperature will cause a lower voltage, but in other cases, the lower voltage will reduce the temperature. Thus, the CPU will create more opportunities for higher boost frequencies by going into the range of thermal velocity boost with the help of this cycle.
TVB's Configurations for Motherboard Vendors
Courtesy of the Intel Cryo Cooling Technology, Intel has opened the pathways for motherboard vendors to configure the Intel thermal velocity boost voltage optimization configurations. But because of the lower temperatures which result from Cryo Cooling technology, this TVB technology is exploiting the additional overclocking headroom.
Now let's see how to enable the Intel thermal velocity boost?
How to Turn Intel Thermal Velocity Boost on or Off?
For enabling the Intel TVB, you can either use the"BIOS method" (if your motherboard supports it) or "Intel's Extreme Tuning Utility". Anyway, whichever method you choose, the procedure of configurations will almost be the same.
But if you're having trouble understanding the configuration of Intel thermal velocity boost configuration, then you can follow the method of going from the top ratio to the bottom ratio.
Once you've configured the settings, you can hit "Save and Exit". Then, again go into the BIOS and enter the submenu of Thermal Velocity Boost. There, you will see a full table of configurations.
Configurations Table According to 10900K
If you are looking for Intel thermal velocity boost 9700K, then TVB is not available for Core i7-9700K. Therefore, we will represent the configurations table according to 10900K.
The values in the table below are measured at a fixed base clock frequency of 100MHz, which gives 6GHz and 5.2GHz.
| | | | | |
| --- | --- | --- | --- | --- |
| Active Cores | Ratio Settings | Temperature A | Negative Ratio Offset A | Temperature B |
| 1 | 60 | 10 | 3 | 55 |
| 2 | 60 | 10 | 3 | 51 |
| 3 | 60 | 10 | 4 | 47 |
| 4 | 60 | 10 | 4 | 43 |
| 5 | 54 | 58 | 1 | 68 |
| 6 | 54 | 54 | 1 | 64 |
| 7 | 52 | 62 | 1 | 72 |
| 8 | 52 | 58 | 1 | 68 |
| 9 | 52 | 54 | 1 | 64 |
| 10 | 52 | 50 | 1 | 60 |
According to 10900K, the first column shows the number of active cores which is 10.
The second column (Ratio Settings) defines the maximum possible ratio against a particular number of active cores.
The third column (Temperature A) describes the offset point of the first temperature. This means, when the processor exceeds this temperature, it will decrease the ratio of CPU.
The fourth column (Negative Ratio Offset A) labels the ratio offset for the configured temperature in the third column. This means, when the temperature of the CPU exceeds 10 degrees with four active cores, the ratio will decrease by 4. So, 60-4=56 and this is how the CPU will run four cores at 5.6GHz.
The fifth column (Temperature B) shows a similar function to the first temperature offset column. But you cannot configure the ratio here and this step is always set to decrease the one additional step.
Result of the Table:
In the table mentioned above:
For 2 active cores, the CPU frequency will be 6GHz.
The frequency will drop to 5.7GHz if the temperature is higher than 10oC (10-degrees centigrade).
The frequency will further drop to 5.6GHz if the temperature exceeds 51-degrees centigrade (51oC).
1.     What is Intel Turbo Boost Technology?
As we know, processors have a base frequency and a boost (turbo) frequency. Specifically talking about Intel's CPUs, Intel uses technology in their processors to boost its performance at a specific point and time without manual overclocking. This is known as Turbo Boost.
2.     Are Intel Turbo Boost and Intel Thermal Velocity Boost technology the same?
No. But both these technologies are the same in a way that they improve the performance of a system at a certain point. Still, there's a major difference between them.
CPUs having Thermal Velocity Boost (TVB) technology will have two boost speeds apart from the base frequency and turbo frequency. With Turbo Boost, CPUs can enter an even higher boost speed ratio than the classic turbo frequency for all cores. This feature is typically available in Intel Xeon W-1200, Intel's 9th and 10th Generation desktop processors, i5, i7, and i9 mobile processors.
Apart from TVB, Intel processors can also use Turbo Boost. The CPUs using this technology have 1 or 2 favored CPU cores. These two cores will be the fastest among the bunch of cores. So, if someone is dealing with a high-end task, that task will be transferred to these favored cores to achieve better performance. This is known as Turbo Boost. There are further two variants:
Turbo Boost 2.0 (Single-Core Boost).
Turbo Boost 3.0 (Dual-Core Boost).
3.     How to DownloadIntel Thermal Velocity Boost?
For Intel thermal velocity boost download, you first need to check your processor's compatibility on Intel's official website. But there's no need to download it because you can enable it via BIOS or Intel's Extreme Tuning Utility.
4.     Is Intel Turbo Boost Available for i5?
Yes, Intel turbo boost for i5 is available. The 3.0 version of Intel Turbo Boost supports the following Intel processors:
Core i5 and core i7 mobile processor.
Core i7 extreme edition mobile processor.
Core i5 and i7 processor extreme edition.
Read More: