by Raven Harman
|
Last Updated:
June 1, 2022
Do you want to know how to measure a laptop size accurately and quickly? A lot of people commonly ask this question that how do I know what size my laptop is especially when looking for a carrying case or bag. This article provides a perfect and easy-to-understand answer to this question.
In this post, we have a bunch of some excellent techniques to provide you details on how to measure a laptop for faster, accurate, and precise measurements.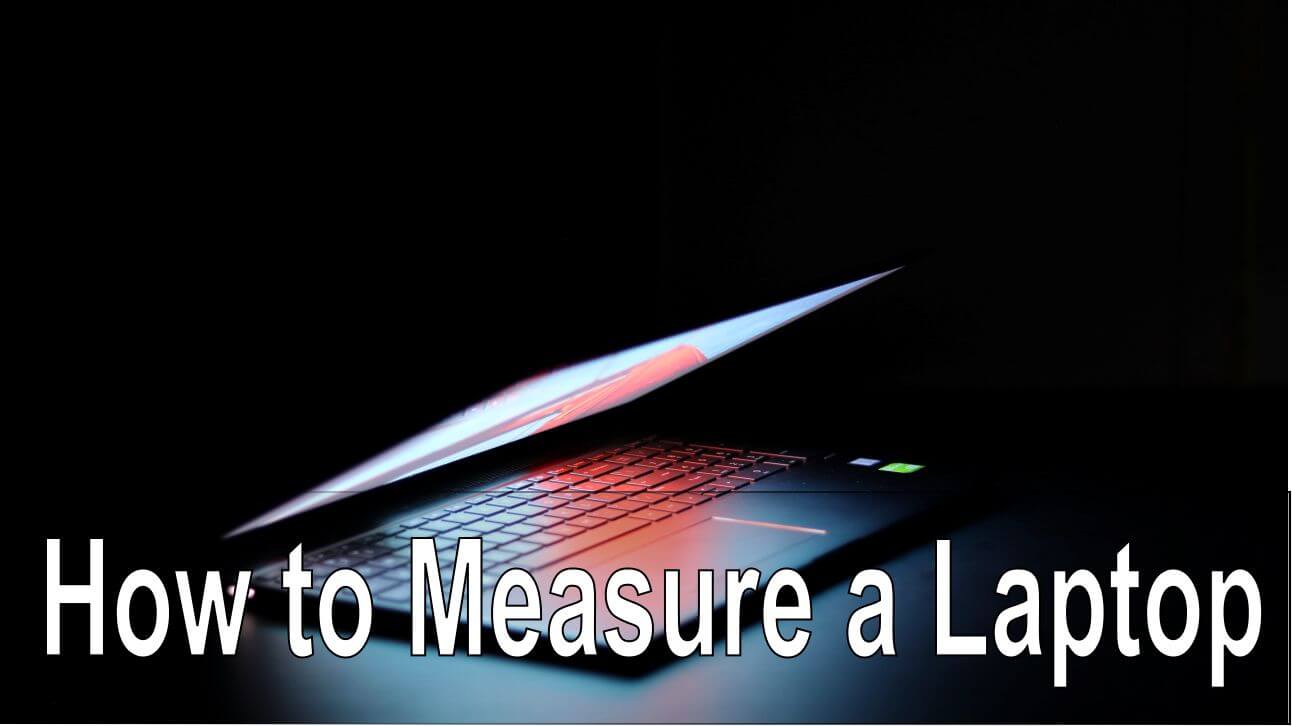 As you already know that sole purpose behind the invention of the laptop is to provide you mobility computing. We carry our laptops in either backpack or using body support and hands for this purpose. To assess the portability of a laptop and its fitness for use, there are several dimensions that you should be measuring. These dimensions include laptop screen size, weight, height, depth, and weight.
You might be looking to buy a laptop backpack or carry case online but if you don't know laptop size accurately, then choosing the right backpack is next to impossible. Pictures convey aesthetics and colors which are not enough to get an idea if your laptop will fit properly or not. For choosing the right backpack or case, you should know how to measure a laptop for a backpack or a case.
By the end of this article, you'll be able to learn measuring:
Laptop screen size
Width
Height
Depth
Weight
How to Measure Laptop Size Precisely and Quickly?
Sometimes you need to get your backpack on the go so you need quick measurements. However, it's useless if laptop size is measured inaccurately. So, you'll need to learn techniques for measuring laptop size accurately and rapidly. Let's dive into these techniques:
Screen Size
Laptop screen size matters a lot and different people have different size preferences. Screen size is quite commonly considered the same as laptop size. So, in the first place, you should know how to measure laptop screen size.
The term screen size is quite confusing if you're not familiar with measuring screen size. You can easily confuse screen size with width. For instance, try to read this without keeping the laptop screen in mind.
"Laptop size is 15 inch"
Isn't the flow suggests that the laptop is 15 inches wide? This is wrong. To get a proper idea have a look at this example:
Acer Aspire 5 Slim laptop has a standard 15.6-inch screen and its overall dimensions are 14.31×9.86×0.71 (WxDxH). It's evident that screen size is not the same as that of width and measuring laptop size in this way is wrong. So, if you think the same then please forget about it.
Here is the right method to measure laptop screen:
The laptop screen area consists of two things:
Actual display screen
Bezels
The actual display screen is made up of glass no matter you are looking for a touchscreen or non-touchscreen laptop. Bezels are borders or grooves that hold the display screen tightly fitted in the lid compartment. Bezels can be narrow or wide.
Keep two things in mind for measuring screen size:
Bezels are not included in measurement instead, only display screen glass size is measured
The size of the laptop screen is always measured diagonally using
For measuring diagonal size, place your scale right on one bottom corner and opposite the top corner. Generally, most the people use left-bottom corner and top-right corner which gives a clear view to read the measurement. So, we would recommend you to use these corners. However, you can use other pairs of opposing corners as well.
You can use any unit of measurement like centimeters, meters, or feet. However, the standard unit that is used for measuring laptop screen size is in inches. So, it's always good to go with the flow. There is no problem if you use centimeters as measuring units. In such a case you can use any unit conversion tool.
Laptops come in a variety of screen sizes and for the sake of quick reference here is a laptop screen size chart for common screens:
| | |
| --- | --- |
| Screen Size (inches) | Screen Size (centimeters) |
| 11.6 inch | 29.46 cm |
| 13.3 inch | 30.73 cm |
| 15 inch | 38.1 cm |
| 15.6 inch | 39.62 cm |
| 17 inch | 43.18 cm |
Measuring Width, Height, and Depth of Laptop
Measurement of width, height, and depth is fairly straightforward forward and mostly these are measured in inches. These dimensions give you an exact idea for your laptop backpack.
So, let's measure these:
To measure the width, place measurement tape right across your laptop from one end to another but ensure that tape is placed in a straight manner. The ideal position for measuring the width of the laptop is in the middle area near the caps lock of the keyboard. You can measure width by closing the laptop lid as well.
However, do remember that placing tape straight in the middle is ideal for accurate measurements. Depth measurement gives you a better idea that how much wide laptop bag you should go for. You get more precise results if you measure depth by closing the lid. Some laptops have a slightly curved edge so the middle of the laptop is an ideal location for measurement of depth.
Some laptops have batteries extended towards the backside so while measuring ignoring these extensions gives you inaccurate results.
The height of a laptop is measured by placing a measuring scale right-aligned to the laptop in a bottom to top direction. However, for accurate results always do this by closing the lid as the height of the laptop includes both of system unit and lid.
Wrap Up
Assessment of laptop measurements is a dire need to fully support your choice of laptop and backpack or case. Measurement is a fairly straightforward process and takes a couple of minutes if it is done systematically and by following certain rules.
We've mentioned all the necessary key points including do's and don'ts in our guide on how to measure a laptop screen, width, height, and depth. We're sure that you'll not face any sorts of problems in measuring your laptop. However, if you still feel confused then we would recommend you carefully read this article once again.
Read More Informational Guide: