by Raven Harman
|
Last Updated:
June 1, 2022
What is the Best Laptop Brand? It's a common question that comes to mind when you start looking to buy a laptop.
We all know about some of the top-rated laptop brands and might use a few of their models in our life. Although several brands are out there, only a few of them deliver reliable, durable, and robust machines. When you are planning to buy a laptop, you must consider the brand as well.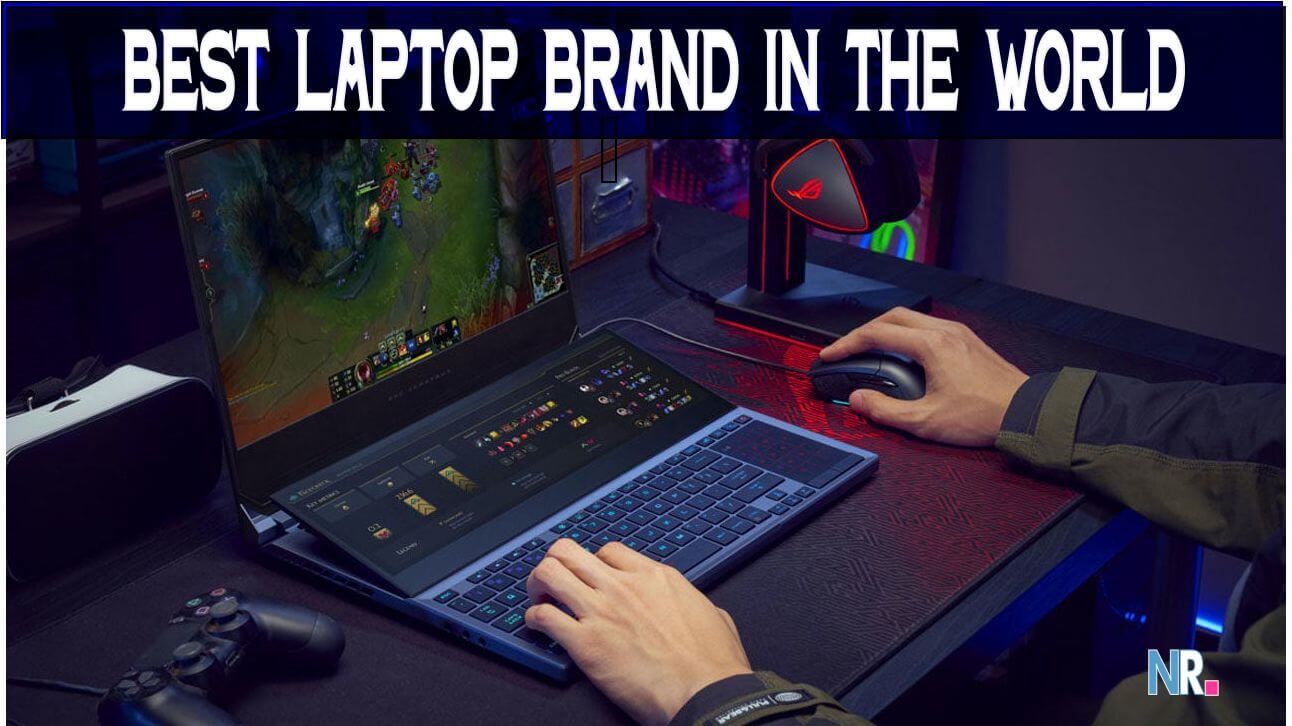 You might have your favorite laptop, but you should know which brand is performing better right now.
You should keep in mind in-depth research involve choosing a brand. Along with the design and specification, few facts need to consider:
Technical Support
Accessories
Value for Money
Compatibility
Much more
To make it easy, professionals and experts give their opinions for making this list of laptop brands that are given below.
Let's explore these top 10 best brands of laptops in 2022 now.
Our 10 Picks for Best Laptop Brands
APPLE
Many research and experts rated Apple laptops as the best laptop brand.  The apparent reason is security, innovation, and quality that no other brand offers.
Apple is among the luxurious brands when it comes to technology-related instruments e.g., laptops, tablets, PC, smartphones, and music players. Apple has an operating system that provides more security. All their machines come with pre-installed Mac OS, including iMac, MacBook Air, MacBook Pro, and the latest MacBook. Mac OS is error-free and incredibly easy to use.
The brand provides excellent customer support, outstanding build quality, and design. User-friendly interface with hundreds of features, powerful battery, and much more.
Apple Laptops are extremely attractive and slim with a backlit Apple logo on the back of the machine. When it comes to the reliability and durability of the Apple MacBook, it has no match.
Apple MacBook Air was the first laptop that was portable, thin, and lightweight. They introduce retina technology that offers a crisp and clear display that no one could expect.
Most of Apple's products come with 14 days refund policy.
CHECK THE BEST MACBOOKS
DELL
If you are looking for the best laptop for Windows, then you should go for the Dell. Most of the Dell laptops are robust, sturdy, budget-friendly, and attractively design. According to a recent study, Dell is one of the best-selling laptop brands this year.
Few users do avoid their laptops because of the simple design, but the XPS series change the mind of people. Inspiron series notebooks took the brand to the next level of success.
They are producing one of the best laptops for gaming i.e., Alienware that is on top since its launch.
The reason why Dell is the best Windows-based laptop brand is its excellent customer support and after-sales support all over the world.
If you want to use one brand for life, Dell should be your go-to brand. Their collection of laptops is hard to count, and their features are incredible e.g., touchscreens, backlit keyboards, powerful processors, long-lasting batteries, and much more.
CHECK BEST DELL LAPTOPS
LENOVO
Lenovo is among one of the most premium laptop brands. Their laptops are suitable for all kinds of tasks, including gaming, study, business, and so on. The prices of Lenovo laptops are slightly higher as compare to competitors.
Most business owners and professionals prefer to buy their business-class laptops that offer high power and super flexible design.
Yoga and Flex series include some of the best portable laptops. Their graphics, touchpad, keyboard, display, and audio quality is world-class.
Recently Lenovo introduces "Lenovo Legion" as their gaming laptop brand to compete with other gaming laptop brands.
All of the devices are solid with excellent built quality, and the machines have no match when it comes to performance.
CHECK BEST LENOVO LAPTOPS
ASUS
There was a time when no one knows and like this brand. Over time the brand introduces some of the most attractive and powerful laptops.
ASUS laptops are among the most affordable laptop brands. The reason is apparent they manufacture motherboard in the house. All their hardware, including storage devices, motherboards, displays, etc. are store and long-lasting.
Their Chromebooks and mini laptops are famous for being budget-friendly machines. They have a vast collection of notebooks for gaming laptops. ASUS ROG series is specially designed for gamers. All their laptops are made of premium quality material.
The technical support department is always available to assist customers. Although they produce budget-friendly machines, they didn't compromise on quality and performance.
CHECK BEST ASUS LAPTOPS
HP
Hewlett Packard or HP is one of the oldest and most famous electronics brands in the world. The brand was among the earliest manufacturers of desktops and still providing the most reliable machines for all kinds of users.
When it comes to durability and performance, it's much better than Ace and ASUS. The only drawback is its battery life in comparison to these two brands.
Not only laptops, their printers, monitors, and other accessories are worth considering. The laptop ranges from $200 to $2000+ with great features, design, hardware, and display so that anyone can own the device.
Their customer service is available all the time to support customers. Envy, Spectra, Pavilion, and Elite are some popular series. In short, they offer a simple yet attractive design with reliable and durable hardware. The prices are also reasonable with excellent support.
CHECK BEST HP LAPTOPS
ACER
Acer manufacturer is best for money values laptops. Their machines are budget-friendly; their Chromebooks are available at $150, so what else do you need.
Not only this, but Acer produces high-end gaming laptops and premium laptops too. Predator series for gaming users are making a significant impact on the company's overall goodwill.
Aspire is a famous series of Acer that has hundreds of notebooks for all kinds of users.
The customer support is standard. The design is classic and straightforward.
All in all, it's a brand that primarily focuses on extremely low-budget users.
CHECK BEST ACER LAPTOPS
MSI
MSI is the best laptop gaming brand to produce high-end gaming laptops. Almost every gamer knows about it, their prices are too high, but the quality and features are unbelievable.
They keep innovating and bringing new designs to the market. Their designs pay off the investment. 95% of the notebooks include a high-end graphics card. There are few thin laptops as well for regular use.
These machines are not for all kinds of users, but their features attract everyone, including eye-tracking sensors and unique gaming keyboards, etc.
The brand has no comparison with other brands. They offer 24/7 customer support.
CHECK BEST MSI LAPTOPS
MICROSOFT
Microsoft is famous for its software packages e.g., MS Office, Skype, etc. 90% of the device has Windows OS that is designed by Microsoft. It's one of the oldest app development brands, but a few years back, it enters into devices manufacturing.
They have limited options for users, but they are high-priced and mostly designed for professionals.
Microsoft Surface Book and Microsoft Surface Pro 4 are slim, lightweight, and sturdy machines. Their battery lasts over 12 hours or so.
As this brand has a strong reputation to maintain, that is why their support is excellent. You can contact them through social media network accounts as well.
Moreover, most of the laptop comes with a warranty. Overall, the passion for innovation, design, technology make it one of the best brands of laptop.
CHECK BEST MICROSOFT LAPTOPS
TOSHIBA
Toshiba produces the best all-purpose laptops that are excellent for routine tasks such as watching movies, browsing, surfing, chatting, etc. Not only this, but it's also among one of the best budget-friendly laptop brands.
They have a vast collection of notebooks that fits the budget. Satellite C series delivers lightweight and thin laptops.
Overall, their laptop lasts for several years. The company improves its hardware quality and customer support to satisfy the customers.
Their hard work, support, and innovation are paying off; that's why Toshiba is one of the best laptop brands now.
CHECK BEST TOSHIBA LAPTOPS
SAMSUNG
Samsung is another famous electronics brand for smartphones, tablets, TV, etc. The brand is new when it comes to laptops; that why have a lower customer base.
The brand introduces ATIV Book 9 Pro and ATIV Book 9 Plus that are ultra-thin and have excellent specifications.
They need to introduce new models of laptops for a better price with powerful hardware and features. Users mainly avoid their laptops because of poor battery life.
CHECK BEST SAMSUNG LAPTOPS
Conclusion
As we know, technology changes, and it changes rapidly, especially when it comes to laptops. New features and specifications add up. So, a brand that fulfills the need of the current day will get prominence with its performance.
Now you have the top 10 best laptop brands in 2022, so it becomes easy for you to pick one brand. All these brands are well known, and you can choose anyone out of them with confidence.
We will keep on updating the list, so you get the right and detailed information from here. We love to know your personal preferences, as well.