by Raven Harman
|
Last Updated:
June 1, 2022
The 2021 version of the MSI GS66 Stealth gaming laptop computer is the very first laptop powered by RTX 3080 GPU, and if you've seen the 2020 version of the MSI GS66 Stealth, then you would not notice any major difference unless you use it. We are providing you with a detailed product description and specifications. A lot of you might have questions but we are sure that you'll find all the answers in the product info of the MSI GS66 Stealth item model laptop.
Because from the outside both beasts are pretty much the same and after the release of the MSI GS66 Stealth 2020 version, when MSI announced that there will be a successor to this gaming laptop releasing in the coming year (2021), many tech-savvies hoped that MSI GS66 Stealth 2021 would look a little different from its predecessor.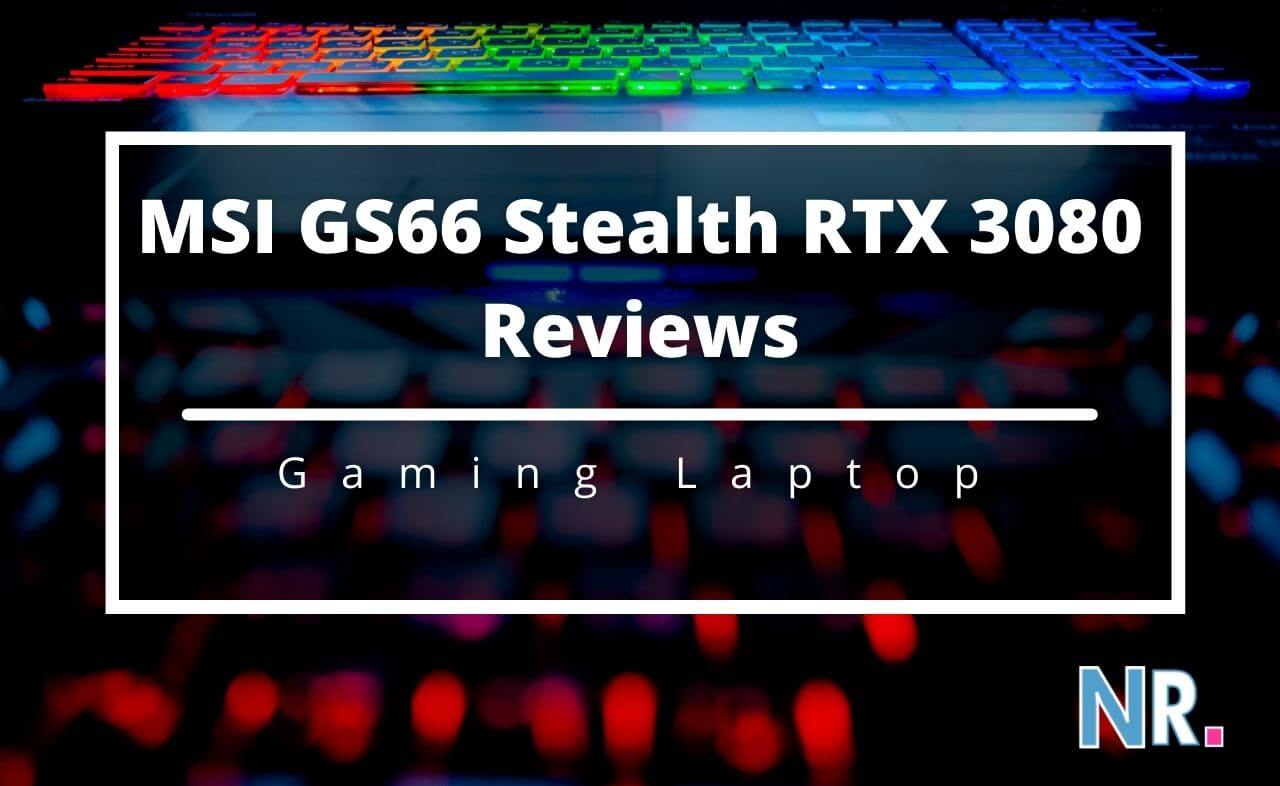 MSI GS66 Stealth 2020 version was powered by NVIDIA RTX 2070 and it wasn't a complete waste at all because there were some areas where it could give great competition to Razer's gaming laptop. But there were some areas where the gamers thought that this could be better.
And that's why today we'll be talking about the 2021 version of MSI GS66 Stealth in context with GTX RTX 3080 from NVIDIA corporation because that's the GPU MSI embedded in this gaming laptop. I'll be giving my honest opinion about this laptop and we will mainly focus on gaming performance considering it is a gaming laptop. So, without any further ado, let's begin the debate!
MSI GS66 Stealth Overview – [Product Details]
Starting with the laptop itself, the MSI GS66 Stealth is powered by the 2.2GHz Intel Core i7-10870H Processor with a base clock speed of  2.20 GHz. This 10th generation Intel Core i7 has an extremely impressive power boost clock speed frequency of 5.0 GHz which makes it superior to Intel Core i5 11th generation processors. Of course, it got the NVIDIA GeForce RTX 30 Max-Q 32 Series GPU which easily outperforms AMD Ryzen 9 4900HS. Now there are three variants of this laptop in terms of GPU. The first one is the GS66 Stealth 10UH which is released in 2021 and this is the one that we are going to discuss today because it's powered by RTX 3080 series.
The GS66 Stealth 10UH has two variants itself in terms of GPU, the 8GB (DDR6) VRAM variant and the 16GB (DDR6) VRAM variant. The other two variants of MSI GS66 Stealth are GS66 Stealth 10UG and GS66 Stealth 10UE. GS66 Stealth 10UG uses RTX 3070 and GS66 Stealth 10UE uses RTX 3060. Both of them utilizes the 8GB DDR6 VRAM. With these powerful specs, you can enjoy excellent gaming performance on the MSI GS66 FHD gaming laptop computer. We have thoroughly tested this powerful laptop on various latest and demanding games. We were quite amazed to see the ultimate performance of this beast.
Anyway, talking about the MSI GS66 Stealth 10UH, it has got 16GBs of DDR4 Memory in Dual channel Configuration, 1TB of SSD courtesy of the NVMe Drive on Board which is fast than the traditional SATA SSD (almost 3 times faster or maybe more than that). One cool thing about this laptop that I and almost every other tech-savvy liked is its display.
It has a 1440P IPS display having a comfortable 15.6-inch screen display size. With handy product dimensions, 240Hz refresh rate, and 3ms response rate and since it is getting into the market at the start of 2021, so it is setting the trend of higher refresh rates with higher resolution on this year's gaming laptops. To be more precise, you will see a lot of 1440P and 144Hz gaming laptops in 2021.
However, MSI GS66 Stealth is more of a high-end laptop considering its refresh rate. It is one of the best performing gaming machines so far. You can see a complete chart of specifications for MSI GS66 Stealth 10UH in the section down below ??.
Specifications MSI GS66 Stealth
CPU/Processor
CPU/Processor: Intel Core  2.2 GHz i7 10870H
OS (Installed and Recommended)
Windows-10 Home
Display Screen Size
15.6-inches IPS and G-Sync Panel
GPU
NVIDIA GeForce RTX 3080 Max-Q with 8GB or 16GB VRAM DDR6
Memory
(2x) 16GB DDR4 @3200MHz (Up ot 64GB, User-Replacable)
Storage Capability
1TB NVMe SSD (two M.2 slots, user-replaceable)
Resolution
2560 x1440
Refresh Rate
240Hz
Keyboard
Per-Key RGB Backlight Keyboard
Communication
Killer Gb LAN 802.11 ax Wi-Fi 6E + 5.2 Bluetooth
Audio Jack
(1x) Headphone-out/Mic-in Combo Jack
Webcam
IR HD type (30FPS @720P)
I/O Ports
(1x) HDMI 2.0

(1x) Type-C USB3.2 with PD Charging

(3x) Type-A USB3.2 (Gen2)

(1x) Type-C USB3.2 (Gen2)

AC Adapter
230W Slip Adapter
Dimension (W x D x H)
358.3 x 248 x 18.3-19.3 mm
Weight
2.1kg with Battery
Battery
9.9 Battery (Whr battery capacity), Four-cells
Gaming Performance
For measuring the performance of MSI GS66 Stealth on NVIDIA GeForce RTX 3080, like everyone else, we have also conducted the benchmarks tests which we'll discuss later but we are starting with the gaming aspect because this is a gaming laptop and when you want to buy a gaming laptop; you are curious about its gaming performance.
So, let's discuss this first concerning its competitor laptops like MSI Creator 17, Acer Predator Helios 700, and of course MSI GS66 Stealth (2020 version). But before doing that, I'll justify my claim, why I have picked only these laptops, not any other model ??.
Reasons for Comparing these against each other
There's no need for a reason for comparing the 2020 version of MSI GS66 Stealth with the 2021 version of MSI GS66 Stealth because I know a lot of you guys are here for just this comparison. MSI has embedded the NVIDIA GeForce RTX 2070 Super Max-Q GPU in the 2020 version of MSI GS66 Stealth and it's the predecessor of the 2021 version of MSI GS66 Stealth RTX 3080 (Gaming Laptop), so it won't be fair to you guys if I haven't compared these two.
With MSI Creator 17, this is not a gaming laptop but the reason that's here is that it has a very similar 8-cores and 16-threads processor, it's got an NVIDIA RTX 2080 Super Max-Q which is an important part since we are comparing the gaming performance and it's a 4K panel but still I ran games on 1440P and 1080P resolution.
With the Acer Predator Helios 700, my major reason to put this laptop in the comparison with MSI GS66 Stealth RTX 3080 (Gaming Laptop) is its GPU. The NVIDIA GeForce RTX 2080 is a super GPU on board and when we talk about laptop GPUs/mobile GPUs, it is one of the robust GPUs available in the market for Laptops.
Now, this may not be a literal comparison, but it will give you an idea of where MSI GS66 Stealth standing with RTX 3080 in terms of gaming.
MSI GS66 Stealth RTX 3080 vs MSI Creator 17
Now I am always been a fan of playing heavy-intense graphic games like FORZA HORIZON 4, DOOM ETERNAL, GEARS 5, and SHADOW OF THE TOMB RAIDER and when I have tested these games on MSI GS66 Stealth RTX 3080 (Gaming Laptop), the great thing is even at 1440P resolution I have experienced no frame drops and the frame rate is constantly great.
Now keep in mind that I have tested these games at Ultra Graphics settings. Now let's talk numbers which you can see in the graph as well: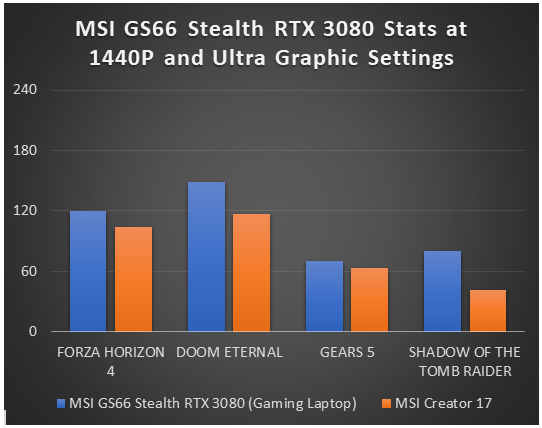 I have got 149-150FPS while playing DOOM ETERNAL on MSI GS66 Stealth RTX 3080 (Gaming Laptop) whereas MSI Creator 17 was stuck on 115-117FPS. Again, MS Creator 17 wasn't a gaming laptop but the GPU of that model has made it worthy of putting this on our list. So, you can see the jump of frame rate with MSI GS66 Stealth RTX 3080 (Gaming Laptop). Now toning down the graphics settings by one level will boost the Frame rate of MSI GS66 Stealth RTX 3080 (Gaming Laptop) to 159-160FPS whereas the MS Creator 17 was still stuck at 118FPS.
When I played FORZA HORIZON 4 at Ultra Graphic Settings, the MSI Creator 17 was stuck at 104FPS at 1440P resolution whereas the MSI GS66 Stealth RTX 3080 (Gaming Laptop) boosted the frame rate to 120FPS at 1440P and Ultra Graphic Settings. And if you decrease the graphic settings by one level, you will get more than 120FPS and approximately close to 144FPS whereas the boost in MS Creator 17 with RTX 2080 was stuck at 130FPS.
Similarly, playing SHADOW OF THE TOMB RAIDER and GEARS 5 at 1440P resolution and Ultra Graphic Settings, MSI Creator 17 was stuck at 42FPS and 63FPS respectively but MSI GS66 Stealth RTX 3080 (Gaming Laptop) gave 80FPS and 70FPS respectively. Again, toning down the graphic settings will increase the frame rates for both systems to 99FPS and 92FPS for MSI GS66 Stealth RTX 3080 (Gaming Laptop) and 99FPS and 75FPS for MSI Creator 17.
Helios 700 Vs. GS66 Stealth RTX 3080 Vs. Creator 17 Vs. GS66 (2020)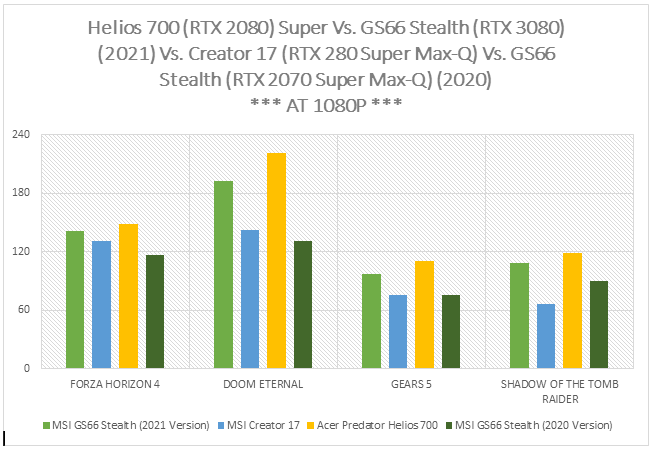 So far, MSI GS66 Stealth RTX 3080 (Gaming Laptop) was going great until the beast Acer Predator Helios 700 arrived into this comparison because this beast beats everyone as you can see in the graph above ??. Being an RTX 2080 Super GPU, it's the Max-P Variant and you can see in all the games, the Acer Predator Helios 700 beats every other laptop on our list, but how this is possible? As we all know, MSI GS66 Stealth RTX 3080 (Gaming Laptop) is the latest to release and Acer Predator Helios 700 is an older model than this one, but how this happened that it outperformed everyone?
Well, this lack of performance is not because RTX 3080 is a better GPU than RTX 2080 Super, let's leave this topic for another debate. This happened is because, on GS66 Stealth, MSI has configured the NVIDIA RTX 3080 to a simple 95-Watts of Maximum Graphics Power.
Moreover, NVIDIA is no longer making it mandatory for Original Equipment Manufacturer (OEM) to put a limit on TGP (Total Graphics Power) meaning that there won't be any limitation on the maximum graphics power configuration. Plus, according to NVIDIA GeForce Forum, the OEM won't reveal whether a GPU is MAX-P or MAX-Q GPU. So, that's a disadvantage, I have observed with this laptop.
System Performance Of MSI GS66 Stealth
Now speaking of overall system performance other than gaming, let's start with the processor:
Processor
MSI has used the Intel Core i7 -10870H Processor in the 2021 version of MSI GS66 Stealth (RTX 3080) whereas previously they used the Intel Core i7-10875H Processor (in the 2020 version of MSI GS66) and on paper, this may seem like a slight step down but I haven't noticed any noticeable performance differences between the processors of both of these laptops.
HDMI Port
Apart from embedding Wi-FI 6E and Bluetooth 5.2 in MSI GS66 Stealth RTX 3080 (Gaming Laptop), MSI used HDMI 2.0 port which can cause problems for high-end gamers as it won't allow users to go higher than 60FPS at 4K. Because let's face it, it's 2021 and what people want is 4K at higher frame rates.
Even myself is disappointed with MSI for putting HDMI 2.0 in this baby because I owned a desktop PC that can do 4K at 60Hz-75Hz and let's say if I wanted to upgrade to a laptop that can do 4K at 120Hz, MSI GS66 Stealth RTX 3080 (Gaming Laptop) won't be in my list.
So that's a bump. Even laptops like Razer's new Blade 17 and 15 are featured with HDMI 2.1 so that people can take advantage of the hardware in the true sense when connected to an external monitor.
Windows Utilities And Other Tools
Now for tools like Adobe Premiere Pro and Microsoft Edge, this laptop showed almost the same performance as its predecessor. I have exported a 4K video of 5 minutes on this laptop and it took about 4-5 minutes for completing that task.
Now keep in mind that I have used only 16GB DDR4 RAM stick during this task. Opening multiple tabs in Microsoft Edge while listening to songs on Spotify didn't slow down this laptop.
But unlike the last model, I have noticed that this laptop is a lot noisier when it comes to processing heavy tasks. Now I have heard the laptop louder than this but the decibel level of this laptop went beyond my expectations which is again a bump since the last year's model was a lot quieter.
| | |
| --- | --- |
| BENEFITS | DOWNFALLS |
| Slim Build which some will people find very attractive | Noisy than the previous model |
| NVIDIA GeForce RTX 3080 will bring quicker gaming performance than its competitor and its predecessor | Limitation of 95-Watts in TGP won't allow users to benefit their gaming experience fully with RTX 3080 |
| A Higher Refresh Rate of 240Hz with 1440P resolution is exceptional | A Bit expensive considering the design because other than the slimness the design isn't attractive |
| MSI is still planning to release the 4K and FHD versions of this laptop which will increase its worth | |
We have tested various high-end games as well as software packages from Autodesk, Inc on this machine. The performance was absolutely superb and worth praising. Even with basic settings of central processor and GPU, the MSI GS66 can easily outperform any conventional laptop with similar sort of specifications.
Read More For Selection
Final Verdict
In conclusion, I just want to say that this is a great laptop but because it's configured to give a Maximum Graphics Power (TGP) of 95-Watts you won't be able to enjoy the true RTX 3080 experience. Although this can directly impact battery backup, for enjoying multimedia with longer battery life you can switch to basic configurations.
And let's say if you put this graphics card in any other laptop where the Maximum Graphics Power (TGP) is up to 150 Watts, then (with the same graphics card) you will see a better performance. That's the problem with almost every RTX 30 series GPU of NVIDIA.
However, this still won't deny the fact that for a thin and lightweight laptop, if you compare it with MSI Creator 17 and even with MSI GS66 (2020 version), the MSI GS66 Stealth RTX 3080 (Gaming Laptop) has an upper hand. So, apart from the problem, I have discussed above, it's a very promising laptop and GPU. On the whole it is absolutely a beast and probably one of the biggest blockbusters in the gaming laptop computer series.
Q:1). Is MSI GS66 Stealth (Gaming Laptop) worth spending money on?
No, because there are better alternatives available, but if you want a better performance than MSI Creator 17 and MSI GS66 (2020) version, this can be a choice for you.
However, the design isn't worth its price, plus as a user who wants to use a lot of shortcuts, he might find that the function keys are placed awkwardly next to the control key. But that's not it, it's a bit noisier than its previous model.
Q:2). Is NVIDIA RTX 3080 good for gaming?
NVIDIA RTX 3080 is good for gaming, but it should not be your choice if you want the best of all.